In the academic career, writing assignments is very important. It is given to the students to evaluate their practical knowledge of the subject and also they can state their point of view, based on in-depth research. To be precise, doing assignments prepare you for the professional field in the future. But, students often get irritated at the idea of writing too many assignments. Sometimes, the topics are too complicated that many of you assume assignments as a complete waste of time. In such cases, you can take Assignment Help to do the task quite easily. Though you depend much on professional services, you must have an idea of making your assignments look presentable. Today, we are going to discuss that here. Have a look-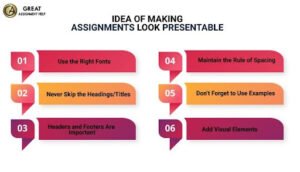 Assignments mean lots of information, research, data, tables, and so many other things. But, you can't just pile those and put here and there. If you want to secure a good score, you need to concentrate on the presentation and the first and foremost thing you need to remember about the presentation is the use of the right font. Make sure you use a font that is easy to read and your content looks neat. Always use the black font on white background. You can bold the keywords if necessary. Try not to use stylish fonts or colours if you are not asked to.
Never Skip the Headings/Titles
To make your assignment look presentable, you need to concentrate on providing the title and the headings. The title should coordinate with the entire matter of your assignment. Also, you need to break the entire assignment into small parts, under different headings. Thus, the readers will find it easy to go with the flow of your writing.
Headers and Footers Are Important
While writing assignments, you should add headers and footers as those make your write-up more attractive. In these parts, you can write your name, course number, page number, roll number, etc. You should never forget to provide the page numbers at the footer on each page, otherwise, it will be difficult for you to organize later and also it looks unprofessional. Adding page numbers helps the teacher to navigate easily.
Maintain the Rule of Spacing
You should pay additional attention to the spacing norms. If you are given any rule of keeping space, you need to follow that. Otherwise, you can keep 1 to 1.5 spacing. Between each paragraph, you should always keep a blank line. Also, you can use left-justify instead of block justify. You should be very consistent about maintaining similar spacing throughout the assignment. One more thing, if you are answering a question, always keep the question and the beginning of the answer on the same page.
Don't Forget to Use Examples
While presenting your assignment, you need to present lots of facts. Now, establishing those facts with effective examples is important as that support your answers perfectly. Also, if you use examples in support of your answer, it will help the readers to relate to the situation and understand your point of view quite easily. To add more value to your assignments, you should never skip using examples for your answers.
This is one of the most effective tips students can follow while writing assignments and making those presentable. Anything visual always attracts the readers instantly than your written words. You can add varieties of visuals like images, graphics, animations, charts, tables, graphs, and so on. Too many texts can often turn into boring pieces of work, but if there are visuals, the assignment becomes more interesting and appealing to the readers. But, if you are adding visuals, never forget to number those and also use captions.
So, here are the top 6 strategies you can use to make your assignment look presentable. There are many other important things like, adding references, avoiding overwriting, creating neat and clean pages, using bullets, etc. You should remember that the title page should be catchy as it must include the title of your assignments, your course name and number, number of pages, and other personal details.
Also, you need to make the introduction and conclusion stronger. While the introduction should introduce the readers to the content, the conclusion should be the summary of the entire work. Make sure you don't include anything new information in the conclusion. If you find these things too difficult take Online Assignment Help from professionals.