Introduction
Many people want to begin a web hosting business of their own because of the hype in demand of hosting services in the market, but they do not. The reason behind this can be the lack of funds, not having enough server technical expertise or other constraints. Thus, in this article, we have brought up an easy and profitable solution called Reseller hosting. It enables almost everyone with basic web hosting knowledge to start a web hosting business venture from anywhere around the world at an affordable rate. Dive right away into the subsequent sections to know how reseller hosting works and what features it offers.
What is Reseller Hosting?
To simply put, reseller hosting is a web hosting business that permits you to provide hosting services without owning any data center and servers of your own. Rather, you lease server space and resources from a well-established web hosting company that allows you to re-rent them to your end-users.
You can purchase any number or amount of resources depending upon the number of customers you have or are targeting. Your hosting company takes charge of everything related to the server, such as its maintenance, hardware issues, security, etc. Whereas you can simply focus on your reselling business and earn the net profit.
Furthermore, the reseller hosting business can be highly beneficial if you are already a web developer or web designer. That is because starting the reseller hosting business will serve your end customers a one-stop solution to build and run a website. This will help you retain your existing customers and at the same time, drive more potential customers to your web business. Consequently, you will be able to generate higher revenue in the least amount of time from your web business.
Different Types of Reseller Hosting available in market
While searching for reseller hosting packages in the market, you can come across the three most popular and most effective types of reseller hosting. They are categorized and explained below-
Linux Reseller Hosting
With the Linux reseller hosting package, you acquire the Linux operating system running at the foundation of your server. Linux is an open-source OS, which makes it free of cost for employment in hosting purposes. This reduces the overall cost of your reseller hosting package. Moreover, Linux comes with a lot of features and frequent updates for higher security.
Windows Reseller Hosting
With the Windows reseller hosting package, you get the Windows operating system running at the base of your server. The Windows OS is a product by Microsoft Corporation. So, you need a license to employ it. The license fee generally is already involved in your Windows reseller hosting plan's price. Further, Windows provides a graphical user interface that helps users not to get stuck in any complexity of the operations or functions. You get high support for the ASP.net applications with the Windows-based hosting server.
WHMCS Reseller Hosting
WHMCS stands for Web Hosting Management Complete Solution. It renders a one-stop shop to run, manage and control your reseller hosting business. It is also popularly recognized by the name 'client management automation tool' that is employed as online billing software. You get the possibility to add value to your hosting plans in a straightforward and cost-effective manner while computing WHMCS. All the tasks, including creating and setting up users' accounts, generating bills, instant provisioning, account discontinuing, technical assistance can be done with just one click by utilizing WHMCS.
Top 5 Reasons Why Reseller Hosting is in High Demand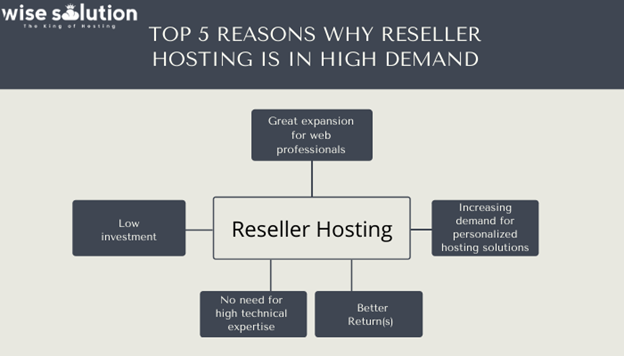 1. Great expansion for web professionals
While being a web professional, if you add web hosting to your plan or service, it becomes a huge bonus to your business. All your customers do not go anywhere else when they can obtain everything under one roof. The reseller hosting business also expands your potential customers and provides you the chance to earn more. Moreover, it also helps you in remaining at the forefront among your competitors in the web market.
2. Low investment
The most crucial consideration for a web business owner is an investment. Numerous profitable business ideas never come on the ground due to the requirement of high capital investment. Fortunately, the reseller hosting business does not need a large amount of money. That is because you do not pay for any major infrastructure servers, expertise, hardware failure, or staff maintaining the servers. All this is managed and provided by your hosting company under your reseller hosting package.
3. No need for high technical expertise
Nowadays, setting up a reseller hosting business is not a complex task. It has been made quite easy and swift with some software and GUI. Thus, you do not need to possess any high technical expertise or learn new technologies for the same.
4 Increasing demand for personalized hosting solutions
The growing demand for personalized hosting solutions gives you the chance to make your reseller hosting business a success. Usually, hosting resellers target limited people with a niche, unlike the traditional hosting companies that serve thousands of customers. So, people can get high and dedicated support from the reseller hosting easily. Whereas with the traditional hosting company, the same support comes at a premium.
5. Better Return(s)
For the obvious reasons that we have learned so far, the reseller hosting business renders considerable returns on the least investment. Moreover, you become capable of running your business without getting bound to any specific area.
How to set up a Reseller Hosting Business?
Mentioned below are the quick steps to follow in order to set up your reseller hosting business-
Step 1: Analyze and determine your web business goals
Step 2: Discover the reliable and leading web hosting company
Step 3: Customize or rename the web hosting plans and packages
Step 4: Set up your budget and selling price range
Step 5: Build up a strategic and effective marketing plan
Conclusion
Make sure that your hosting company renders 24/7/365 technical and customer assistance to you. This will enable you to further provide the guarantee of stable and reliable hosting services and support to your end customers. Furthermore, ensure that you acquire the white-labeling from the parent host so that you become capable of reselling the hosting services under your own brand or company name.